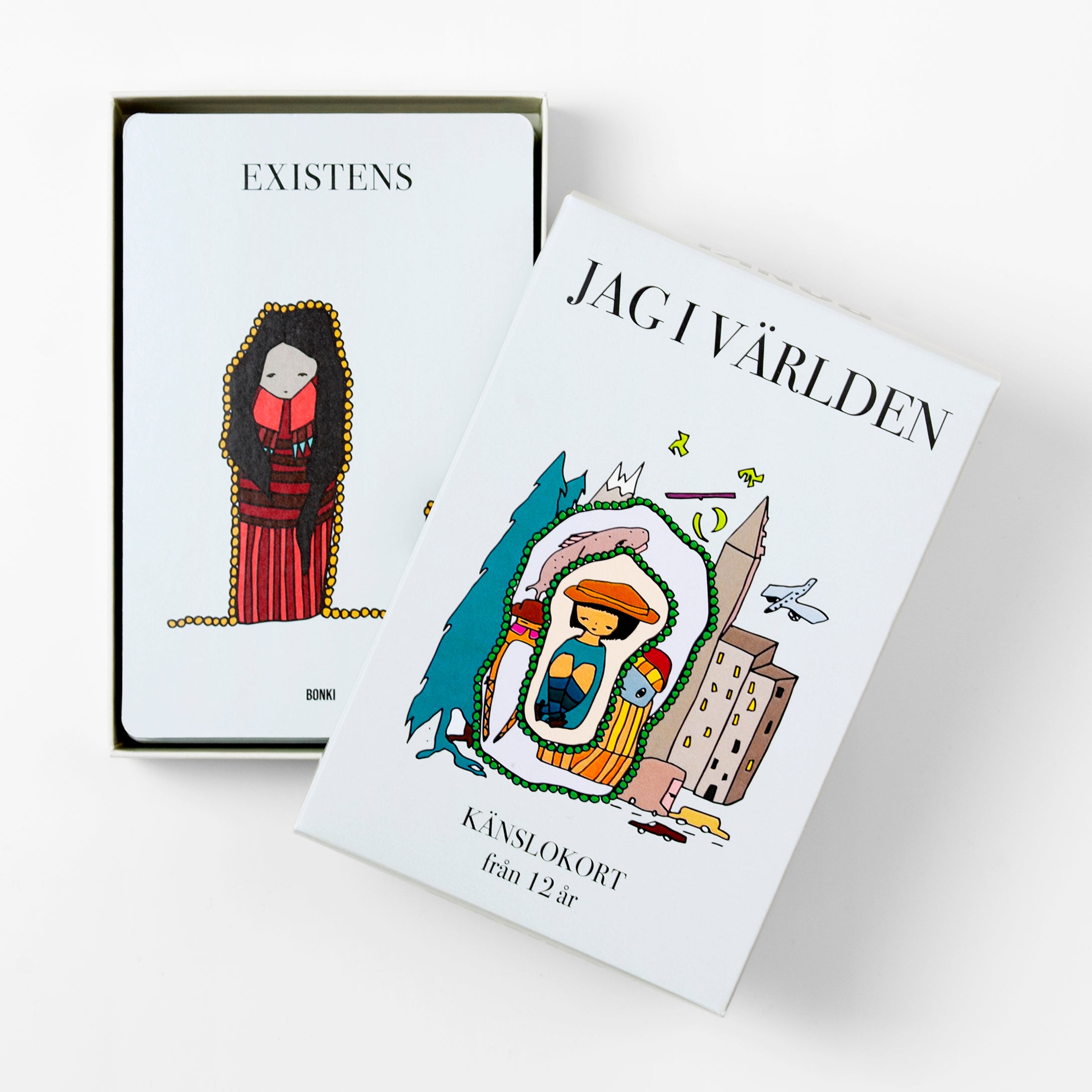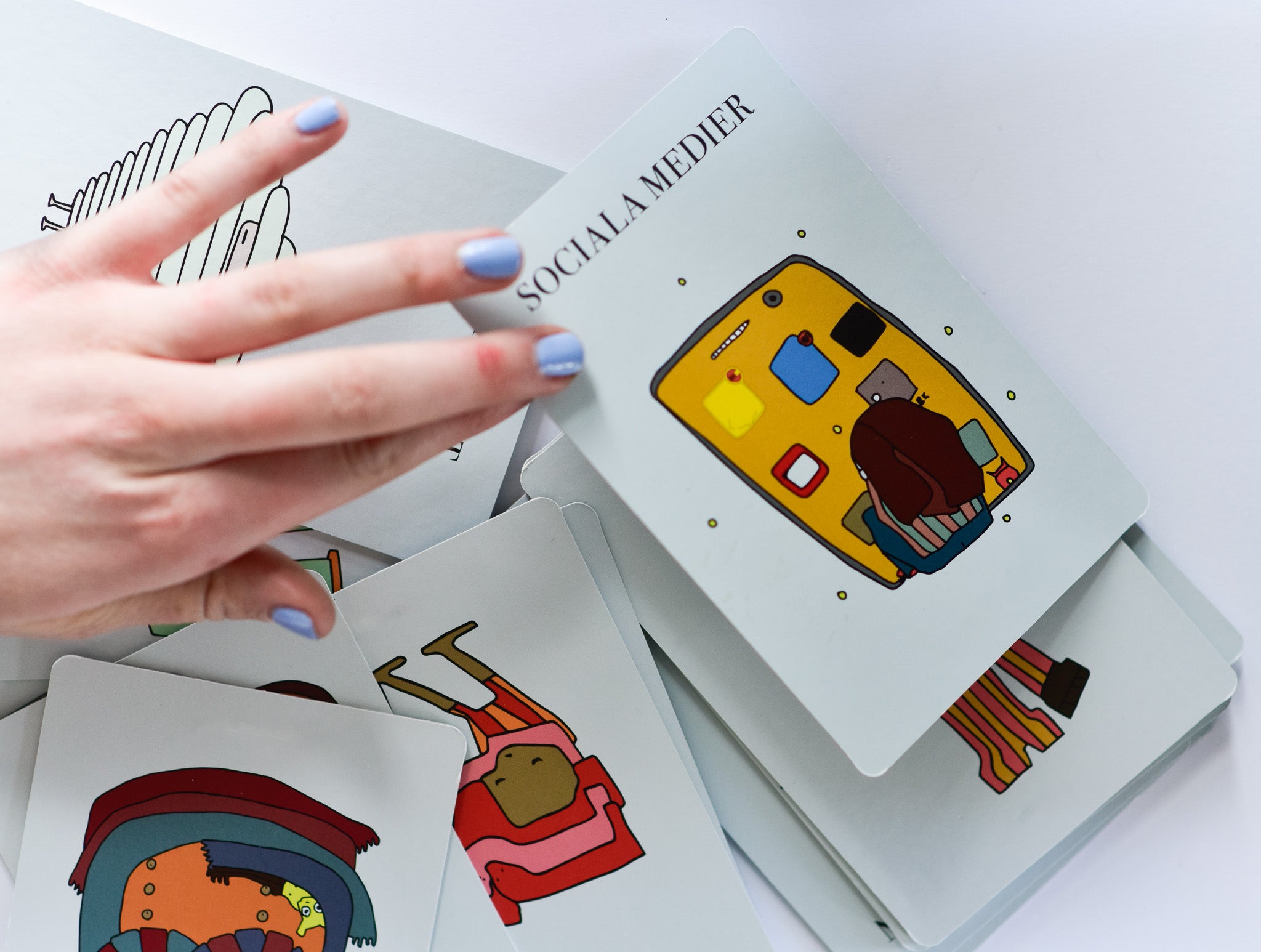 Emotion cards
Prevent mental illness
Emotional awareness makes it easier to deal with stress, conflicts and other challenges that can affect one's mental health.
emotion cards
Self-esteem & compassion
High empathy and effective communication help to create safer relationships and reduce the risk of isolation and loneliness.
Emotion Cards
Safe & strong relationships
It is in interaction with safe adults that the basis for emotional regulation, impulse control, empathy and social skills is developed.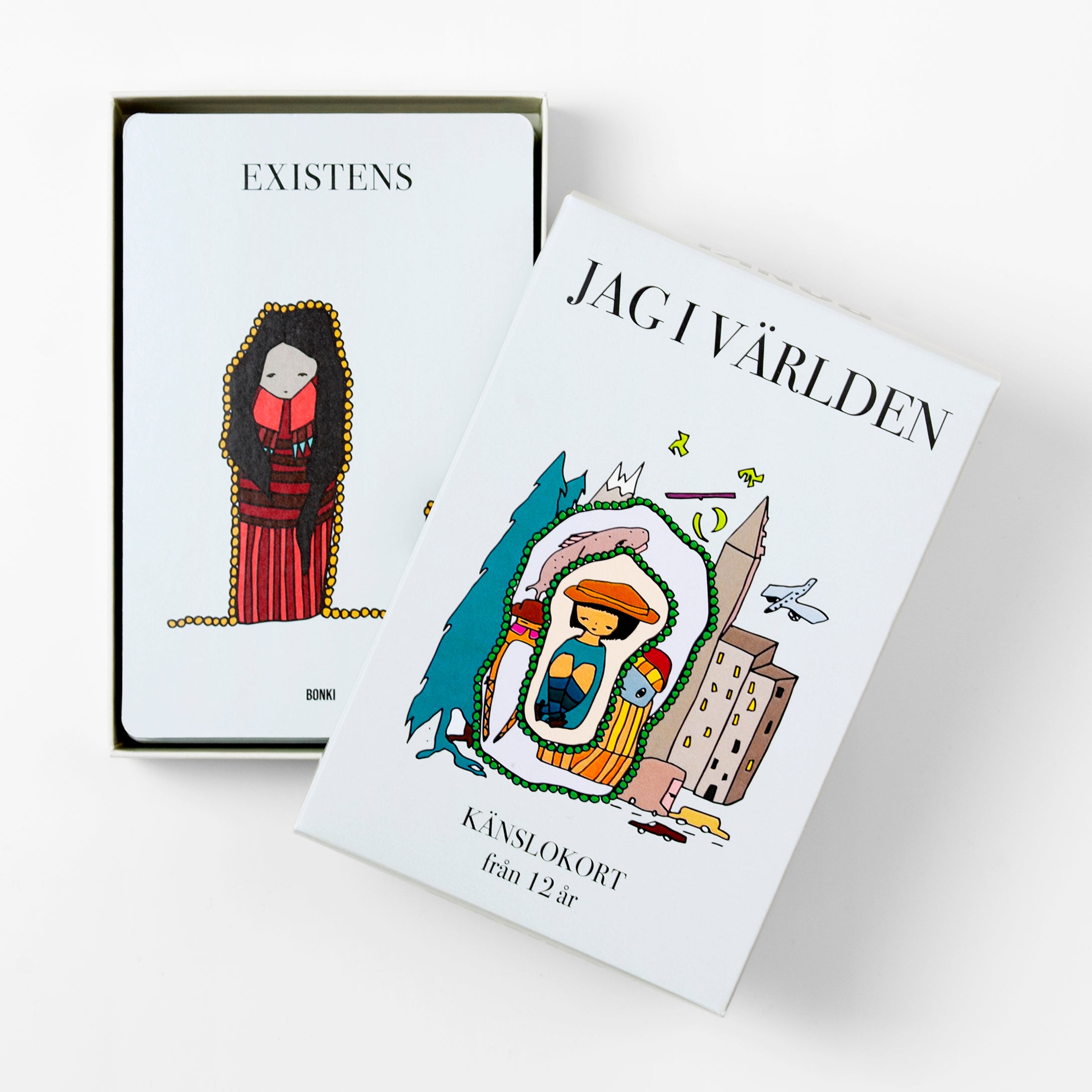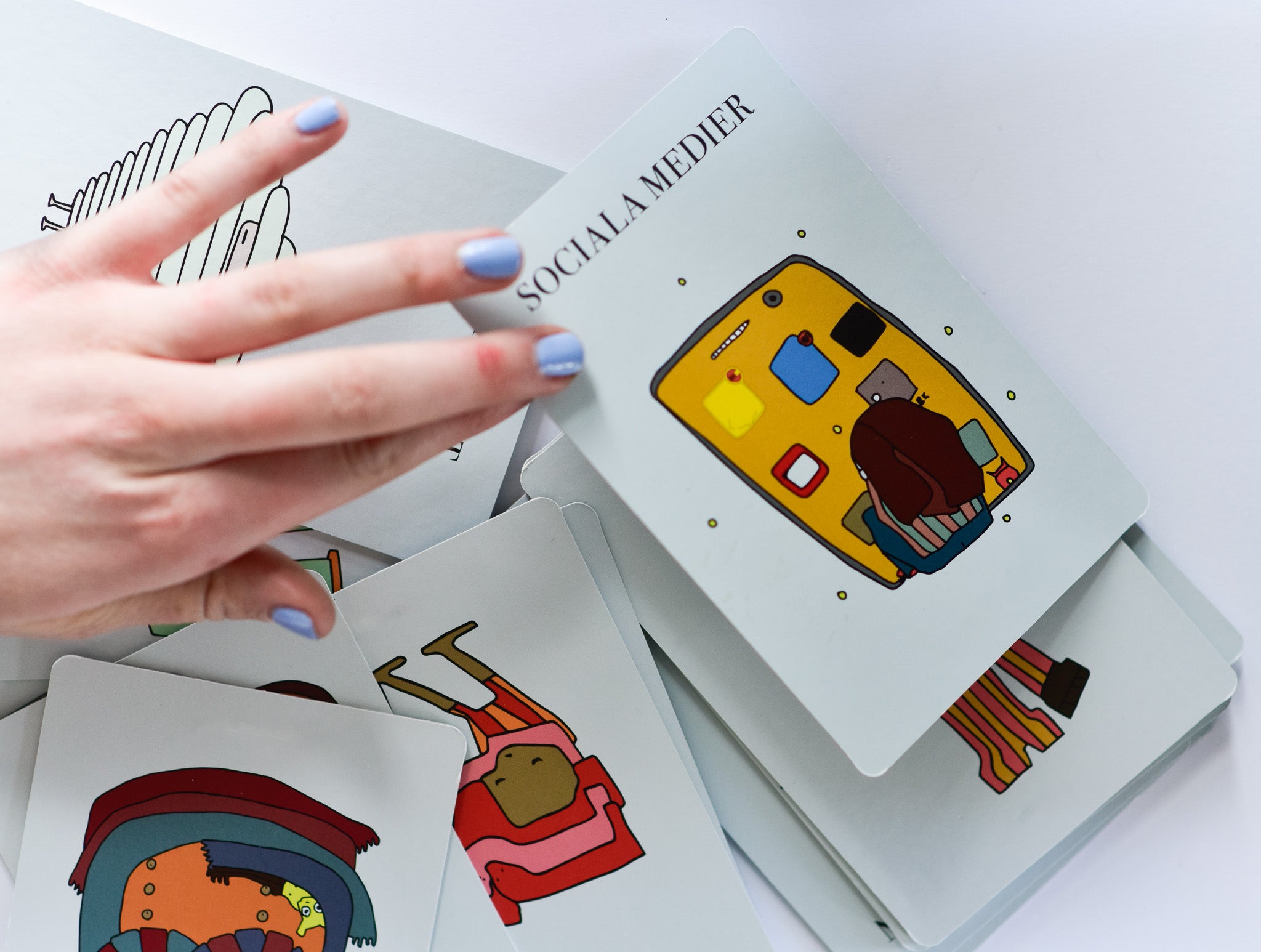 Emotion cards 3 (Age 12 and up)
What we cannot verbalize, we cannot process.
With emotion cards 3 (Age 12 and up) as support, you can create beautiful and rewarding conversations with your child or youth while promoting emotional and social development.
EMOTIONS CARDS "ME IN THE WORLD" - (from 12years up)
Regular price

Sale price

$49.00
Produced in Sweden
1-3 days delivery within Sweden
Share

Many of our customers say this about using emotion cards:
They better get along and get a closer relationship with their child
It becomes less difficult to talk about difficult subjects together
Through conversation it becomes easier to understand each other
PRODUCT DESCRIPTION

20 high quality cards

On each card there is a unique situation represented

To each situation there are questions

 designed by

 

leg. Psychologist and leg. psychotherapist.

The cards are illustrated to arouse curiosity & imagination

Promotes self -esteem & empathy

Large and easy to handle (A6)

Can be used from 12 years and throughout life.






WHICH EMOTIONS

Social Media
Mental illness
Love
Sexuality
Health
Identity
Accomplishment
Existence
Stereotypes
Roles
Morality & ethics
Freedom
Communication
Bullying
Self-esteem
Sympathy
Activism
Friends
Conflict
Confirmation
My child is feeling very bad, does the cards help?

Unfortunately, mental illness is widespread and common among our young people. Emotion cards can be a great way to help the child open up and verbalize something that feels difficult. However, it is extremely important to take mental illness very seriously. If you are worried about your child, you should always contact your health center or child and youth psychiatry on the direct.
My child does not want to answer questions, does the cards help?

Getting answers to straight questions as an adult can sometimes be difficult. There are many reasons why children do not want or cannot answer. Using emotion cards requires you as an adult to also share what you feel, and thus show the child that it is possible and that it is ok to share their interior. However, it is important not to put unnecessary pressure on children. Try to post the situation as demanding and free as possible. Try to invite to the conversation in a relaxed and natural way.
My child is 10 years old and some themes feel relevant, but others do not. Do emotion cards 3 suit us?

We do not have age limits, but age instructions on our cards. The cards also do not need to be "browsed" all at once. If you think that some of the themes that are in Emotion Cards 3 are suitable for your child, you can advantageously use the cards even if the child is 10 years old. The cards that are not suitable right now are simply put to the side. Similarly, cards from Emotion Cards 1 can still be extremely relevant to a 40 year old mother or a 78 year old grandfather. The age guidelines are for guidance, but it is you who decide what is right for you.
WHY?
As children grow, their world also grows.
Me in the World contains 20 cards with themes that reflect the big world that the child steps into such as roles, mental illness, social media, and acknowledgement.
In order to support children in being able to navigate this difficult terrain and strengthen self-esteem, we have developed the cards together with licensed psychologist and psychotherapist Ida Welbourn.
When an entire world opens, it is easy to feel small and handle this by being silent.
Through honest conversations with your child about this complexity, you are a role model and a good example of how emotions can be handled and verbalized.
What we cannot verbalize we cannot process, so your role as an adult to get children to talk is important.
In addition to themes, the cards contain situations that you can reflect around. Not only asking direct questions can make it easier for a young person to open up. Lay out the cards and let the child choose the card that feels right today.
Another way to use the cards is to simply choose a situation that fits in a context and talk based on it.
Nike 12 years tells from the question "Can you describe a situation where conflict can be positive"
"When me and my two best friends came in second, we often struggled. It was probably good, because it is much easier to solve problems with them now. "
Over 10,000 of our customers use emotion cards to communicate better and support children's emotional and social development.
Many are families, but also schools, preschools and actors in child and adolescent psychiatry, family homes and school health care that work to prevent mental illness among children and adolescents.
Testimonials


"We have looked at Lilla Aktuellt to get help to put it on a good level, but when I got the new cards from Bonki, I was so very happy that they had an" activist "card, among other things. "I in the world" is aimed at older children and adults, but it has been so incredibly nice to have now when we spend so much time together and, among other things, talks about a little heavier things, even though she is only 5 years old. Hope and think you should have as much benefit and joy of them as we have ❤️"

Curlydoula
"I tested the cards today with my 10-year-old daughter and she loved them. And good lord, how she kept talking! We kept going for several hours. She said herself that she wants to pull a new card every day."

Paulina Gunnardo