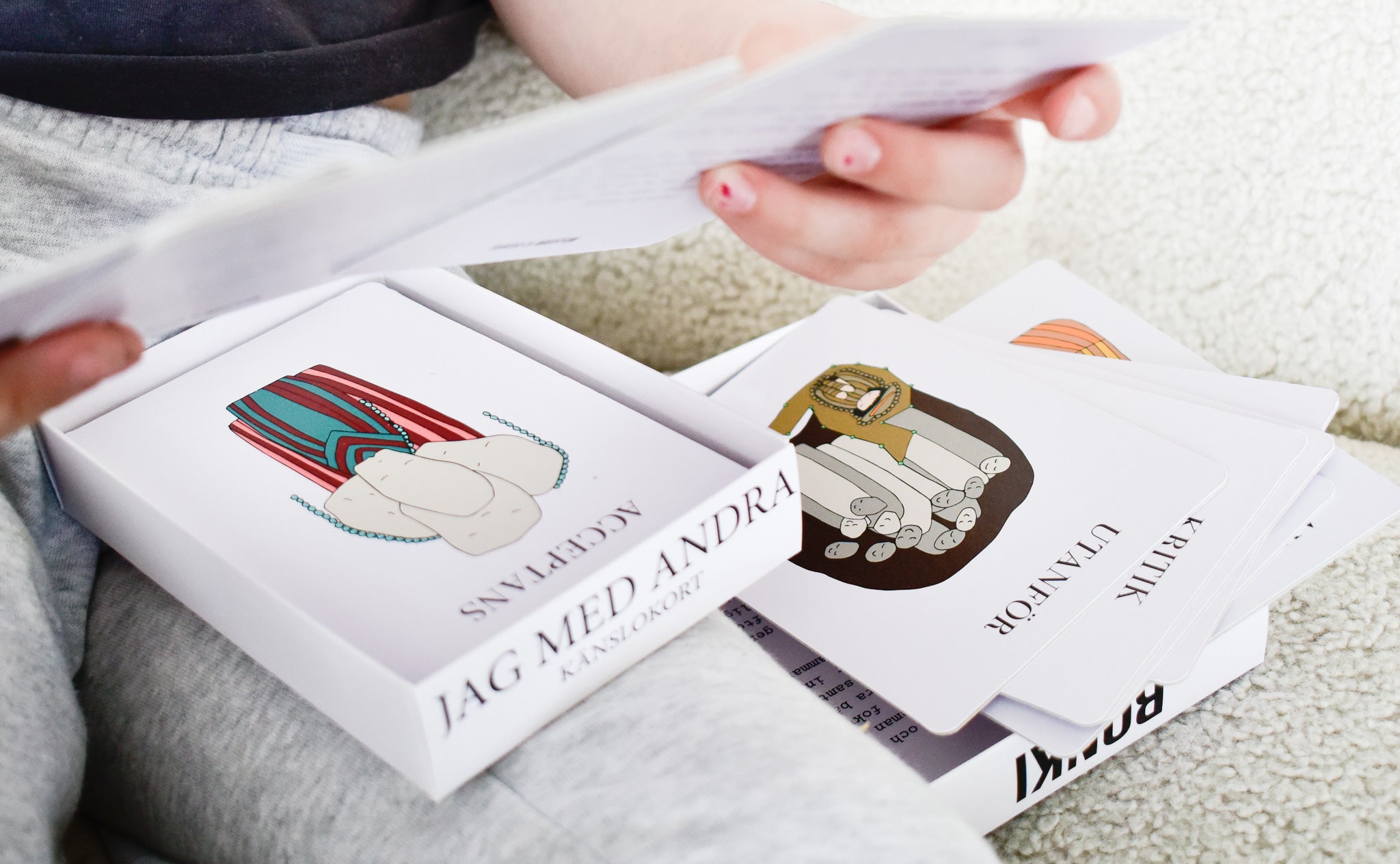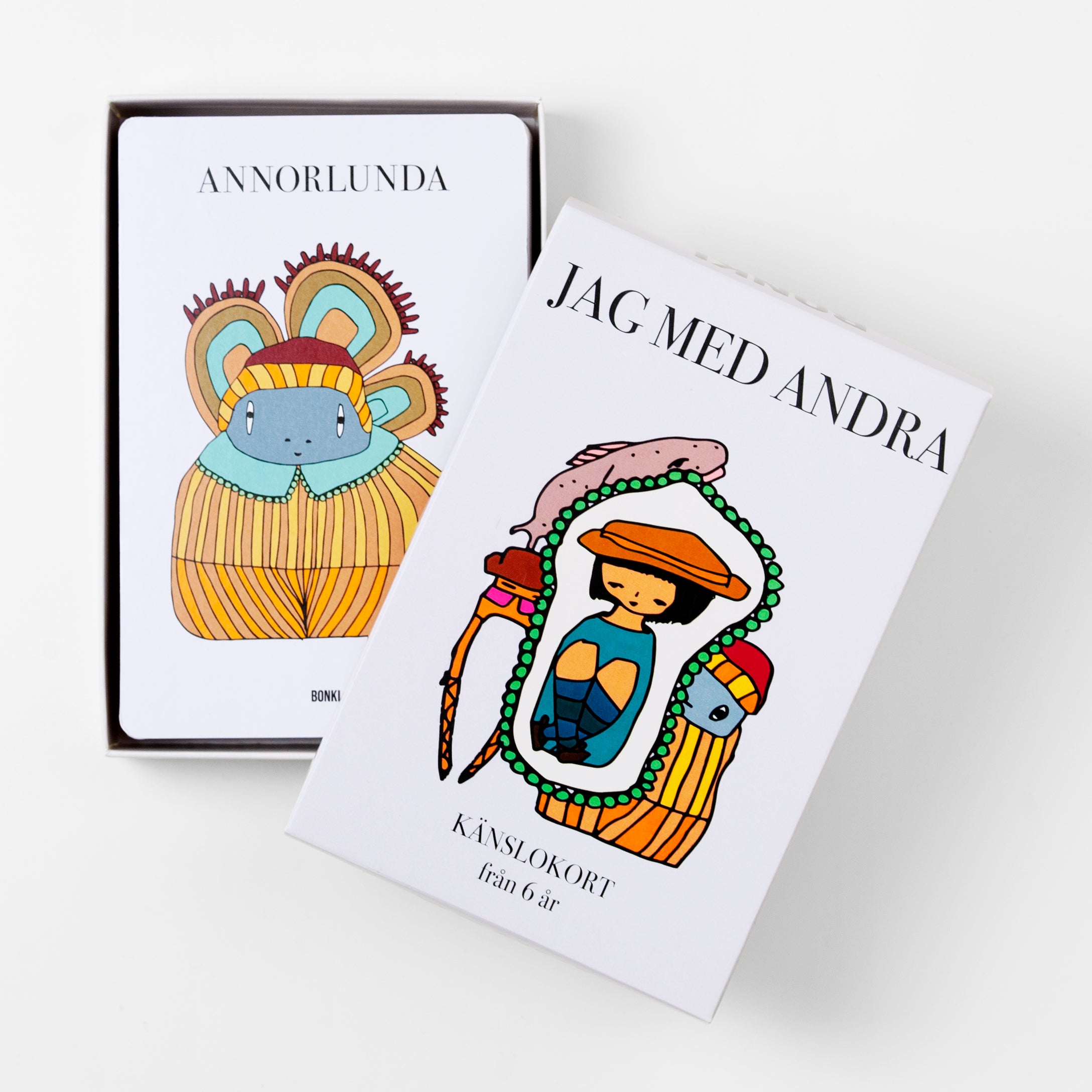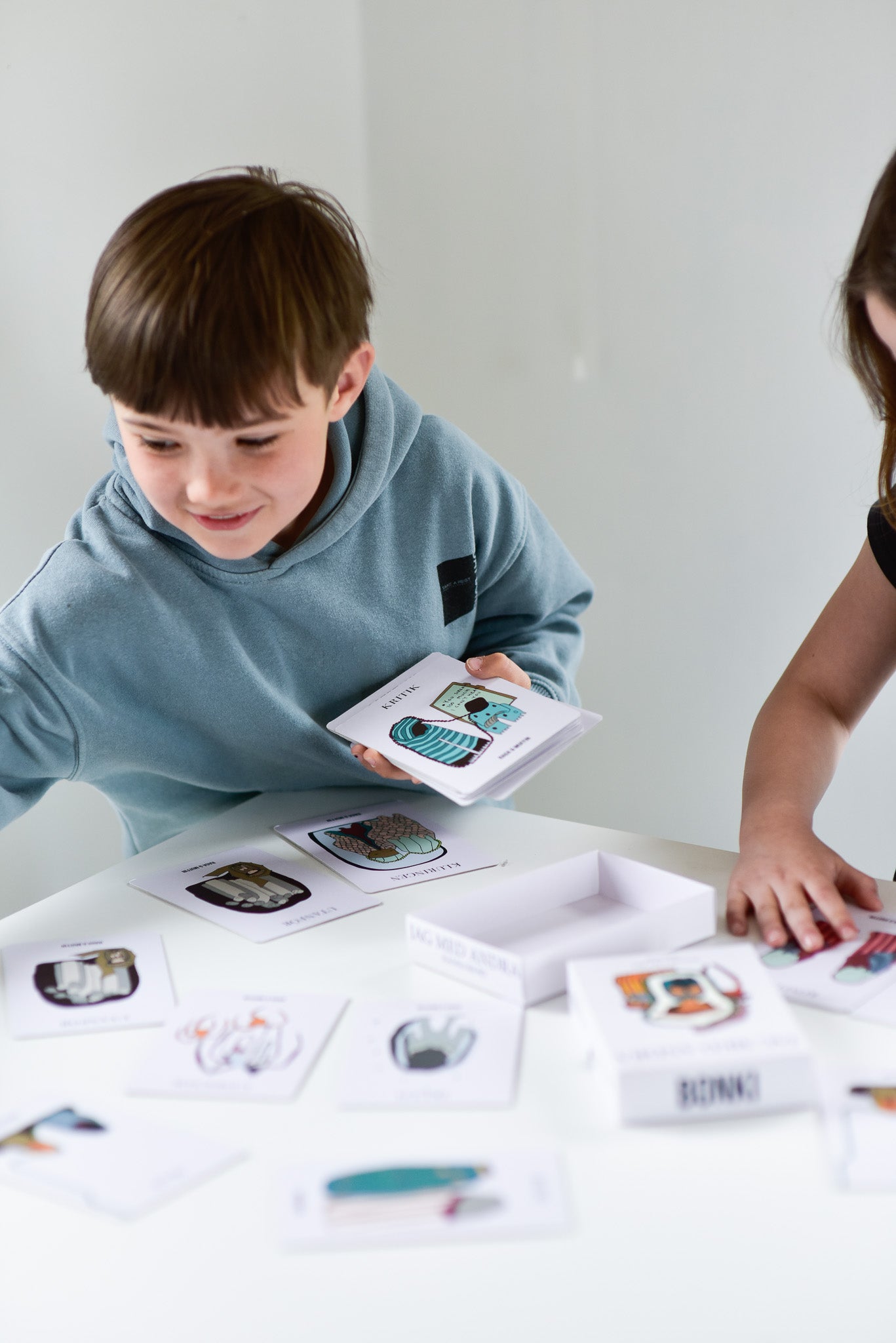 Emotion Cards
Protection against mental illness
Emotional awareness makes it easier to deal with stress, conflicts and other challenges that can affect one's mental health.
Emotion cards
Self-esteem & compassion
High empathy and effective communication help to create safer relationships and reduce the risk of isolation and loneliness.
Safe & strong relationships
It is in interaction with safe adults that the basis for emotional regulation, impulse control, empathy and social skills is developed.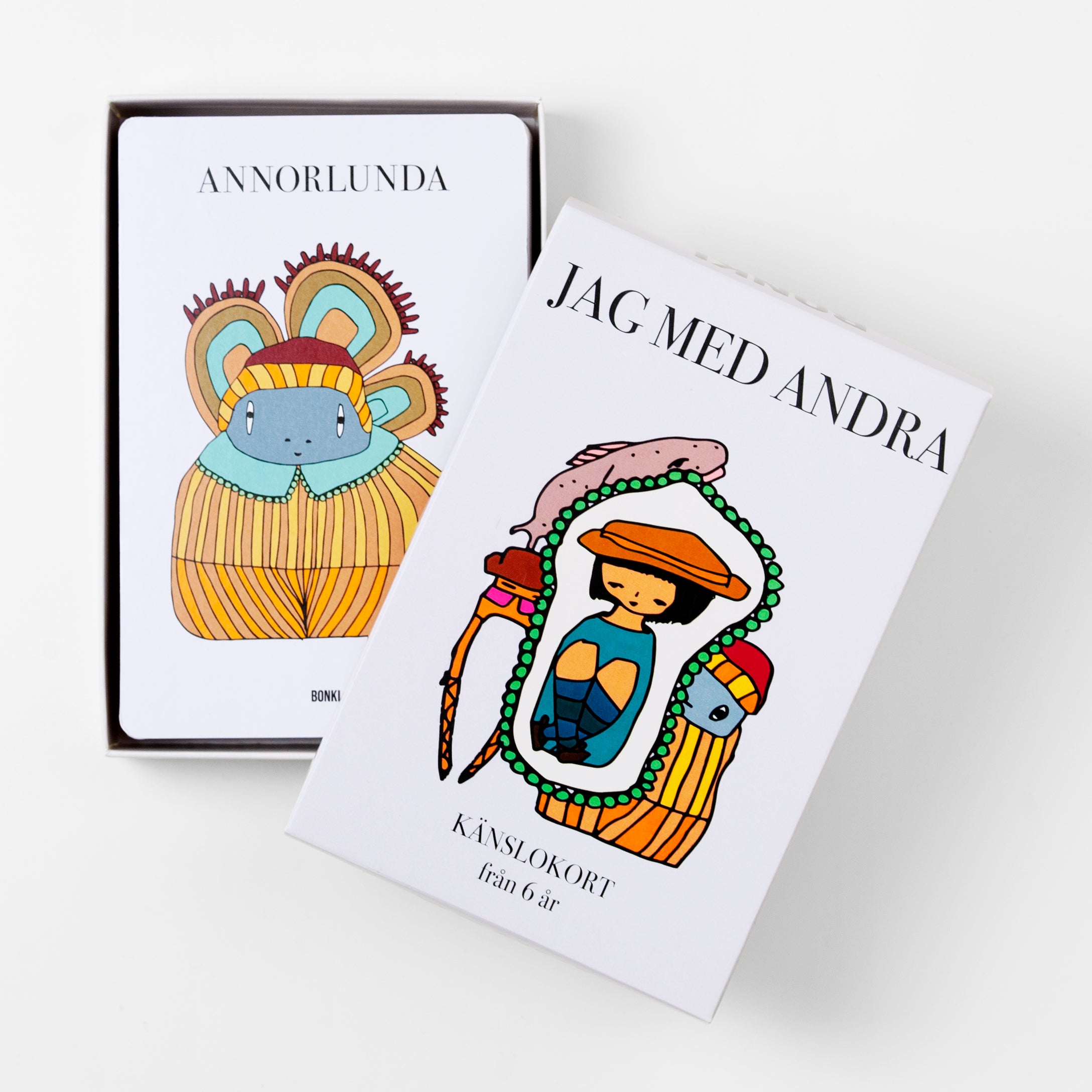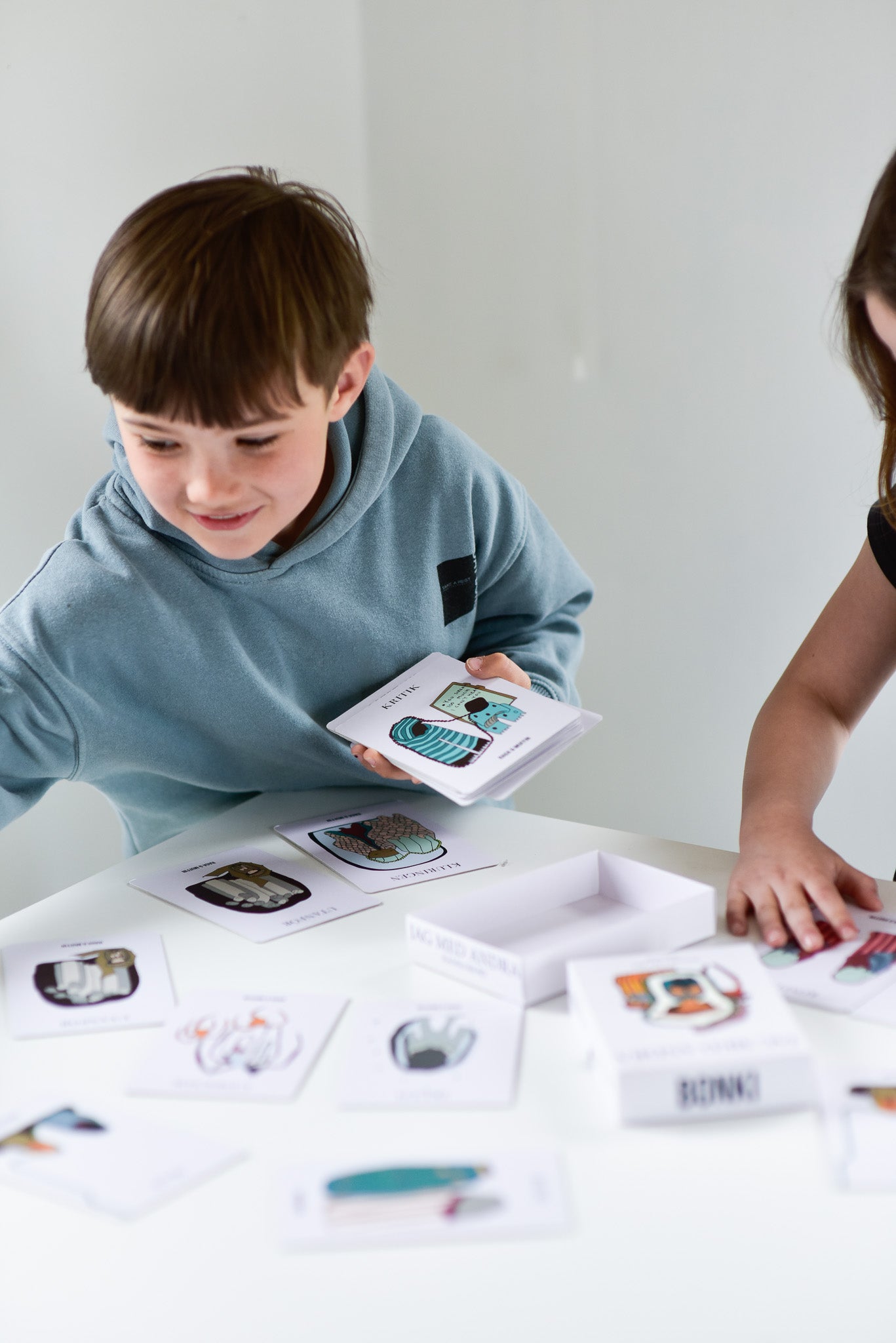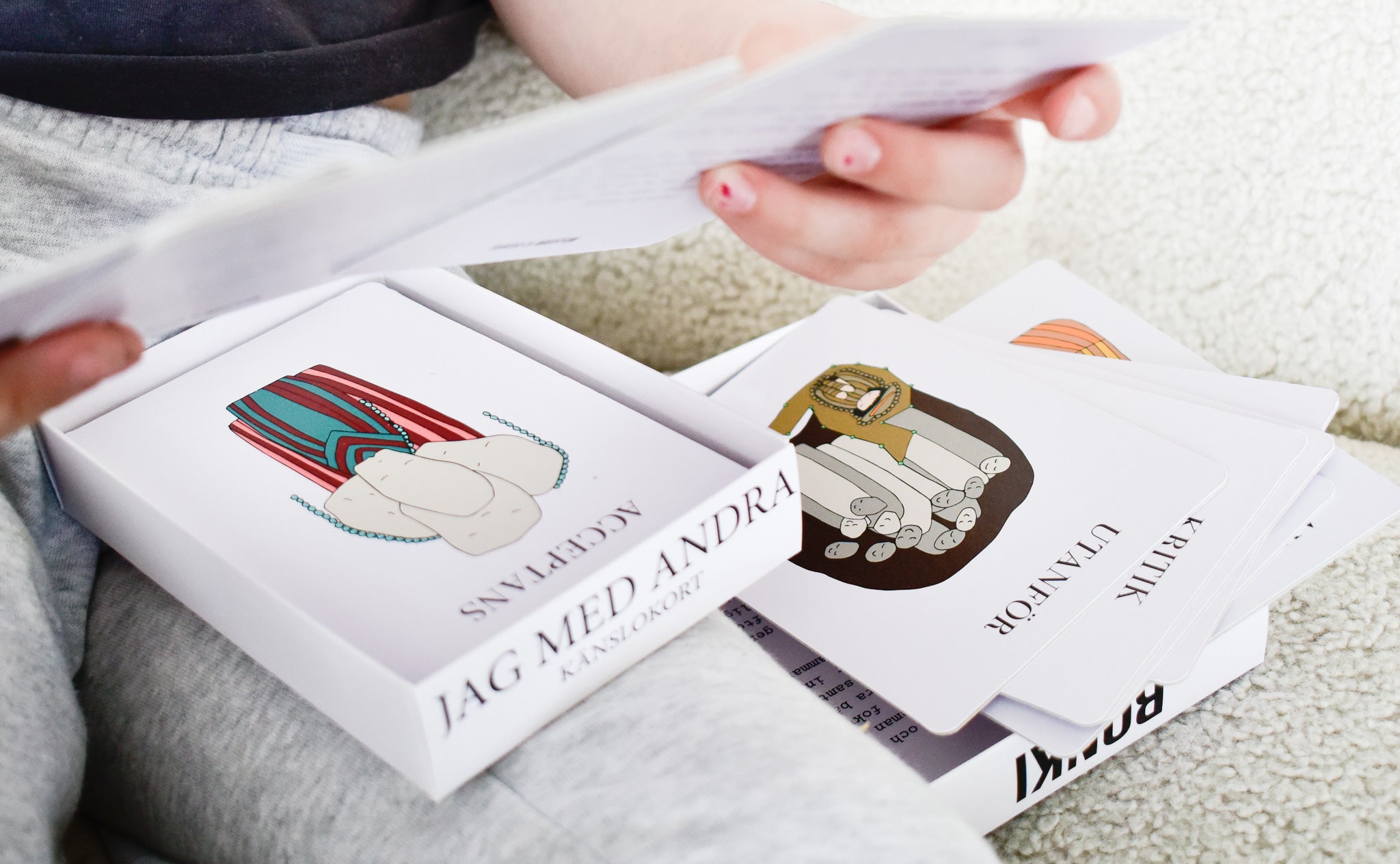 Emotion cards 2 (Age 6 and up)
With Emotion Cards 2 (Age 6 and up) you help your child self-regulate their feelings and resolve conflicts.
Get your child to talk and strengthen their emotional development.
EMOTIONS CARDS "ME WITH OTHERS" - (from 6 years up)
Regular price

Sale price

$49.00
Produced in Sweden
1-3 days delivery within Sweden
Share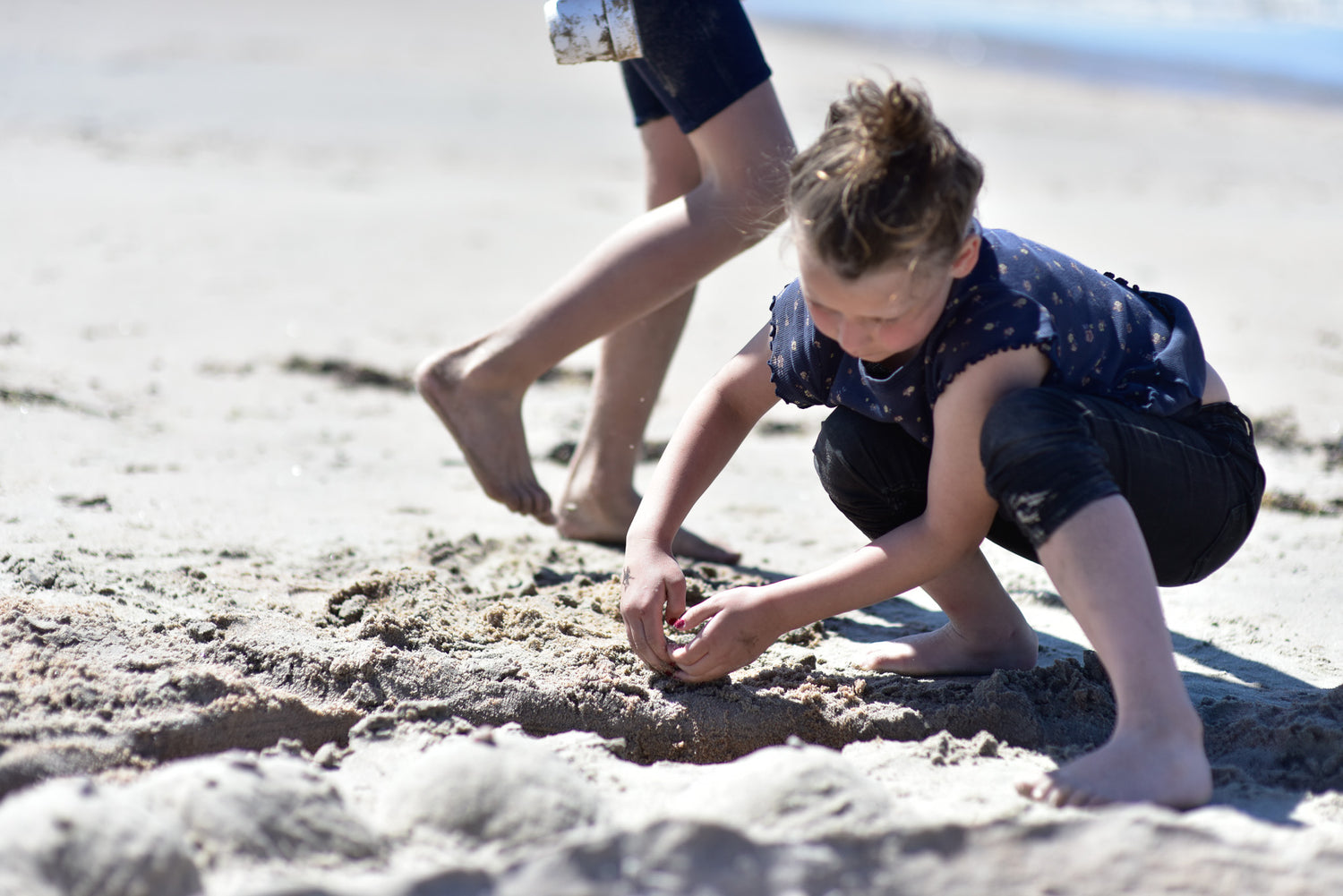 What we often hear from those using the cards:
It becomes easier to get close to their child, get a closer relationship, and get the child to talk
Talking about difficult subjects becomes easier and more natural
When discussions are natural, understanding of each other increases
PRODUCT DESCRIPTION

21 high quality cards

On each card there is a unique situation represented

To each situation there are questions

 designed by

leg. Psychologist and leg. psychotherapist.

The cards are illustrated to arouse curiosity & imagination

Promotes self-esteem & empathy

Large and easy to handle (A6)

Can be used from 6 years and throughout life.









WHICH EMOTIONS

Different
Outside
Good
Contact
Conflict
Equal value
Fail
Brave
Envy
Shame
Debt
Stop
Compete
Appearance
Friendship
Integrity
Truth
Respect
Acceptance
Criticism
Klingen
Must my child be exactly 6 years to use the cards?

We have age instructions on our cards, but not age limits. Children develop at different rates, which makes it difficult to determine what is right for your child. The instructions are set along ordinary themes that come at different ages. However, the theme "I" found in Emotion Cards 1 is as relevant as 3 years old, 8 years old and 36 years old. There is no upper age limit for emotional consciousness.
Aren't these topics a little advanced for a child this age?

The emotions that are reproduced can be both known and unknown to a younger child. By reflecting on a feeling with an adult, the child learns to identify them once they show up. Although a feeling can be unknown to a young child, they are still there. However, all children are different, and it is you as an adult who determines what is suitable for your child. If a card does not seem appropriate right now, it is simply put aside for so long.
Do I have to have completed all cards in Emotion Cards 1 to start with Emotion Cards 2?

No, you don't have to start in a special order. The cards are designed so that each step is independent of each other. We specify a suitable starting age as a guide. It is up to you as an adult to decide what suits your child best.
WHY?
At about six years of age, children begin to reflect on the fact that other people have emotions too.
At this age, it may be common for time to resolve conflicts with children. Another theme can revolve around how to teach your child to self-regulate their own feelings.
Thoughts about the feelings of others and how they affect me can be difficult to sort through. Emotion Cards 2 contains 21 cards that address these topics.
Together with Licensed Psychologist and psychotherapist Ida Welbourn, Emotion Cards 2 is aimed at young and old alike who are thinking about emotions in a social context.
Many situations in preschool and school put great pressure on children to understand and be able to handle their own and others' feelings.
Young people are put into situations where it is important to be able to reflect on the reactions of others and manage their own complex feelings such as envy, guilt, or bravery. It may not always be easy to tell your adult how those emotions feel.
When you help your child reflect and find the words in complicated situations, you give your child tools to face them on their own. By talking and listening yourself, you show a good, empathetic example for your child.
You can choose a card that feels relevant to you today, or as an adult you can suggest a card or a situation. Listen to where your child is at today and let the conversation take the path that feels natural.
Ilse, age 88, reflects on envy along with his grandchild:
- "Envy makes you bitter! Inspire others and give them everything you can, then you will get more of what you want. "
Over 6,000 families, along with professionals in child and adolescent psychiatry, rec centers, healthcare providers, and families who want to invest in preventing mental illness have chosen to use our emotion cards since 2022. You also can get to know each other better and invest in emotional and social development !
Our cards are developed together with Licensed Psychologist and psychotherapist Ida Welbourn to fit young and old alike. When you listen to your child and share your own feelings, you are a role model for social and empathic abilities and you will teach that basics of human interaction and communication. Do you know what your partner feels in their body when they are angry? What do you think your own parent would say ?
To get started, select a card and use the questions on the back to get the conversation going. Listen to what your child has to say: their inner thoughts. The questions are for support, but let the conversation flow freely. Here Ingrid, age 6, answers based on the card Safe:
"Safe is when someone goes next to me and behind me"

"Not in front of?"

"No, absolutely not!"
Since 2022, over 5000 families, professionals in child and adolescent psychiatry, rec centers, health care providers and families who want to invest in preventing mental illness, have chosen to use our emotion cards. Emotion cards 2 (Age 6 and up) is a great way to strengthen children's self-esteem and prevent mental illness.
Button Label
Testimonials



"We have never received an answer to a direct question about how it was in school here at home. What I thought was just high integrity turned out to be a difficulty finding the words. The cards have really helped us to be able to talk about things in a dramatized way we didn't even know our son was thinking about. Big thanks from us! "

@josefinapetrycer
"It is sooo exciting to hear what the boys have to say about the different feelings. I can also notice that it has become easier to pick up certain topics when we become used to talking about them together. Something that has previously felt a little complicated has all of a suddenly become so simple. Love the nice pictures! "

@vanessadime
"We love the emotion cards! My children (8 and 10) often want us to sit down with them in the evening or together on the sofa when we are free in the middle of the day. They give many clever thinkers who strengthen the emotional competence, and I as a parent get help with the imagination. Thank you for a concrete tool that helps us talk about things we might not have thought of otherwise. Both me and the children also appreciate that you write "adults" instead of "parents" or "mom and dad". Thanks for the cozy and insightful moments with my little philosophers! "

@mikaumela